How to Choose the Right Screen Door for Your Home
When it comes to choosing the right screen door for your home, there are a few important factors to consider. At Wizard Screens, we understand that every home and homeowner is unique, which is why we offer a wide range of screen door options to suit your needs.
Start By Narrowing Down the Purpose of Your Screen Door
First, think about the main purpose of the screen door. Are you looking to increase ventilation in your home? Do you want to keep pesky bugs out while still enjoying the fresh air? Or do you simply want to add an attractive touch to your home's exterior?
Once you have a clear idea of what you're looking for, you can start to narrow down your options using the information below.
Option 1: Retractaview Screens
If you're looking for a sleek and modern retractable screen door, the RetractaView™ is a great option. It can screen door openings up to 110 inches wide for double doors and 55 inches wide for single doors.
With custom-made and professionally installed options, the RetractaView™ screen doors solve the challenges of traditional door screens - unsightly design and lack of durability.
The low-profile housing and contemporary style blend in with any existing design, and the screen can be easily pulled into place with one hand using Wizard's GlideSmooth™ Technology. When not in use, the screen conveniently retracts and stores out-of-sight, giving you a completely clear view.
Option 2: VistaView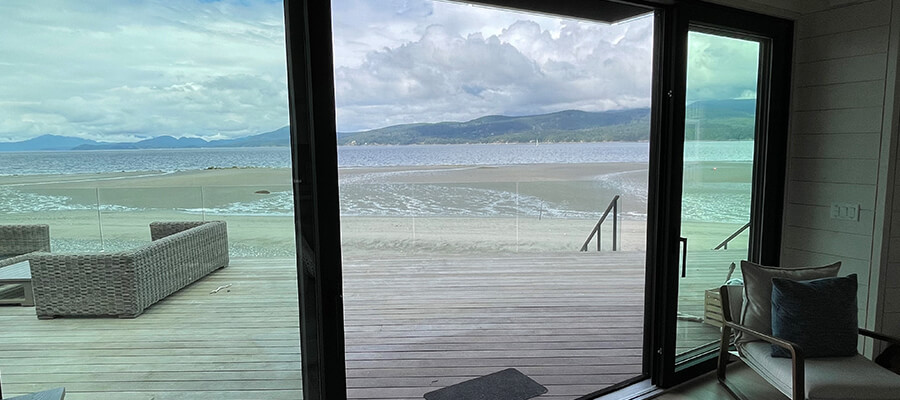 Are you tired of dealing with clunky, unsightly screens for your large doors and windows? Look no further than VistaView!
With its Captured Mesh Technology, this single-screen solution can cover windows and doors up to 11 feet tall and 28 feet wide, while still allowing for an unobstructed view and plenty of sunlight. Plus, operating the screen is a breeze with one-handed movement and the ability to stop it anywhere along the track.
Available in three different housing options, VistaView is perfect for a variety of large openings including bi-fold doors, stacker doors, and French doors. Say goodbye to bulky screens and hello to the beautiful, unobstructed view you deserve with the VistaView.
Option 3: The Horizon
This innovative screen door can handle openings up to 42 feet (double) or 21 feet (single) and can be paired with any unique door or difficult-to-screen opening.
Unlike traditional screens that open vertically, The Horizon moves side-to-side and features a built-in auto-stop function that allows you to open and stop it at any width along its horizontal track. This means you can effortlessly pull the screen to the desired width for easy access and then quickly and easily close it, all while minimizing the opportunity for pests or insects to enter your home. Plus, when the door is closed and the screen is not needed, The Horizon fully retracts into its side housing, keeping your view unobstructed and your home looking beautiful. Upgrade your large exterior doors and openings with The Horizon and enjoy the best of both worlds!
Option 4: SmartScreen + SmartScreen Motorized
If you're looking for an innovative pull down screen or shade, the SmartScreen is a great choice. It can cover up to 12 feet wide x 10 feet tall openings. It features auto stop, captured mesh and can be used for insect control, sun control or privacy.
The motorized version of SmartScreen can screen up to 30 feet wide openings and up to 16 feet tall using a wide variety of insect mesh, solar control materials, privacy options and clear vinyl. It is perfect for decks, patios and large open areas where you want insect control, reduce heat gain or glare and retain heat during cooler weather.
Wizard Screens is Here to Help You Choose the Right Screen Door for Your Home
At Wizard Screens, we understand that choosing the right screen door for your home can be a daunting task. That's why we're here to help. Whether you're looking for a premium retractable screen solution or a motorized screen, we have the perfect option for you.
We pride ourselves on providing high-quality products and friendly, helpful customer service. If you have any questions or need help deciding which screen door is right for you, please don't hesitate to contact us by filling out our contact form, or calling us at 1-888-949-3667.
Where To Buy
Search for a Local Authorized Dealer now