Retractable Wall Screens
VistaView™ Retractable Wall Screens are designed for even the biggest of doors and windows and the most unique applications. VistaView™ can cover up to 28' wide and up to 11' tall making it the largest Retractable screen available. You will love using VistaView™ screen doors for bi fold doors, stacker doors, curtain walls, telescoping walls, lift & slide door systems, french doors or any opening that needs to be screened.
VistaView™ is now available in 60mm, 70mm, and 80mm housing options.
Each VistaView™ is custom made to fit your application and has an Auto-Stop feature and captured mesh for improved performance and easy day to day use. No longer do you need to look at pull bars running down the middle of your screen. One system covers the entire distance. A handle brake system that lets you stop the screen anywhere you want! The screen features captured mesh technology which gives it a high wind rating and keeps your pets inside.
Applications
Live Large
VistaView™ Retractable Wall Screens lets you relax
and enjoy open concept living. Bring the outdoors in - minus the bugs!
Cover Large Spans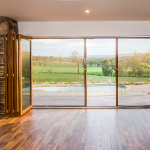 Unobstructed Views
Fresh Air
Auto Stop
Captured Mesh
Recessed Track
Request a Quote
Request a Quote Today
Finish Options
Optional Woodgrains
Mesh Options
Phifer Patio Mesh 18 x 14 (58% Openness)
Designed for applications where extra strength is desired. Ideal for large openings.
Phifer Tuff Screen 17 x 13 (45% Openness 55% UV)
Heavy duty, vinyl-coated polyester insect screening that is ideal for use in high traffic areas. Pet resistant and tear and puncture resistant. Tuff Screen is stronger than regular insect screening. Treated with Microban to prevent the growth of bacteria.
Twitchel Super Mesh Screen 17 x 20 (55% Openness)
Over the years Super Screen has provided innovative technology for multiple applications. SuperScreen offers superior performance charactreristics and is covered by Twitchell's ten year limited warranty. SuperScreen is a vinyl coated - polyester.
Sizing Options
60mm Housing Singles Standard Mesh: 6'(W) x 10'(H)
60mm Housing Doubles Standard Mesh: 12'(W) x 10'(H)
70mm Housing Singles Standard Mesh: 9'(W) x 10'(H)
70mm Housing Doubles Standard Mesh: 18'(W) x 10'(H)
80mm Housing Singles Standard Mesh: 14'(W) x 11'(H)
80mm Housing Doubles Standard Mesh: 28' (W) x 11'(H)
Configuration Options
Components
70mm Drawings
80mm Drawings
Mounting Options
Identifying Housing Side
Housing side is determined as viewed from front of housing (curved side)
If you would like access to DWG Files please email customerrelations@wizardscreens.com.
An View of Excellence
Click the link below to download the latest VistaView brochure.
Warranty
Wizard Screens offers a limited five year warranty on all components, excluding screen mesh, to the original purchaser of the VistaView from the date of purchase. This warranty is nontransferable and will remain intact for the original purchaser provided the product was installed by an Authorized Dealer and/or factory trained installer and has not been moved or altered in any way.
Wizard warrants the components shall be free of defects in materials and workmanship. "Defects" are defined in this warranty as imperfections that impair the utility of the retractable screen. Wrinkles in the mesh or puckering along its edges in itself does not constitute a defect.
The limited warranty does not include components that have been damaged by misuse, abuse, unauthorized repair or modification, lack of maintenance, normal weathering, fading, scratching, airborne or applied corrosive contaminants, acts of God or other causes beyond the control of Wizard Screens.
If a component is defective and you require assistance, please contact your original point of purchase. Please retain your invoice as proof of purchase. Proof of purchase is required for any after sale service.
Downloadable Version
Where To Buy
Search for a Local Authorized Dealer now