Retractable Screens
RetractaView™ by Wizard Screens is the premium retractable screen door. Featuring a sleek modern design and the highest quality of components, RetractaView™ is the perfect screen solution for your door! Our retractable screens are custom made and professionally installed.
Locate a Dealer Near You
We sell RetractaView™ screens through our dealer network. Learn where to buy our premium retractable screens.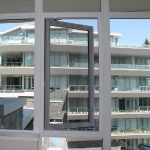 Custom Made
Disappears While Not in Use
Ergonomic Handle
GlideSmooth Technology
Why Wizard…
Components all manufactured with 66 Nylon Components and UV protection
1.77 mm Extruded Re-enforced Aluminum
Best in Class Limited Life Time Warranty
Specially Stiffened Phifer Mesh
Most Contemporary Design
Longest Lasting Retractable Screen
Request a Quote
Request a Quote Today
Mesh Options
4 Phifer Mesh options are available.
Specially Stiffened (18 x 14)
Noseeum
Pet (17 x 13)
Solar
Sizing Options
Optional Speed Reducer
This option is designed to slow screen retraction speed to prevent accidental impacts. This option is only recommended for seniors and households with toddlers as it's addition may increase wear on associated screen components.
Drawings
If you would like access to DWG Files please email customerrelations@wizardscreens.com
A Convenient & Elegant Solution.
Click the link below to download the latest RetractaView™ brochure.
Warranty
Wizard Screens offers a Limited Lifetime Warranty on allcomponents, excluding screen mesh, speed reducers and wood grain finishes, to the original purchaser of the RetractaView Screen from the date of installation.This warranty is non-transferable and will remain intact for the original purchaser provided the product was installed by an Authorized Dealer and/or factory trained installer and has not been moved or altered in any way.
Wizard's Optional Speed reducers carry a 1 year warranty and Wood Grain finishes carry a 10 year warranty.Wizard warrants the components shall be free of defects in materials and workmanship.
"Defects" are defined in this warranty as imperfections that impact on the utility of the retractable screen. Wrinkles in the mesh or puckering along its edges in itself does not constitute a defect.
Defective components will be replaced free of charge for up to one year from the date of installation. After one year, Wizard will provide replacement components at no charge, but a service installation charge will apply.
The Limited Warranty does not include components that have been damaged by misuse, abuse, unauthorized repair or modification of the screen; normal weathering, fading, scratching, airborne or applied corrosive contaminants, acts of God or other causes beyond the control of Wizard Screens.
If a component is defective and you require assistance, please contact your original point of purchase. Please retain your invoice as proof of purchase. Proof of purchase is required for any after sale service.
Downloadable Version
Where To Buy
Search for a Local Authorized Dealer now