Enjoy Your Outdoor Living Space with Retractable Awnings
Retractable Awnings are a great way to extend the functionality of your yard. Wizard has the right model for your specific application and the knowledge to install it. Awnings are available in hundreds of color choices to match your home.
Customized Retractable Awning Solutions
BBQ Year Round
Cool Space Safe From UV Rays
Protect your Furnishings
Keep You and Your Pets Dry
Shade Solutions
Retractable Awnings
Retractable awnings can cover up to 30' wide and 16' projection using high quality long lasting frames, components, motors, acrylic fabrics and water proof materials.
Custom Made with a wide selection of fabric colors and frames to match your homes exterior. Professional installation included, 5 year warranty on Somfy Automation and 10 year warranty on frames and fabric.
* Subject to applicable taxes, pricing is subject to site inspection, and some size limitations may apply.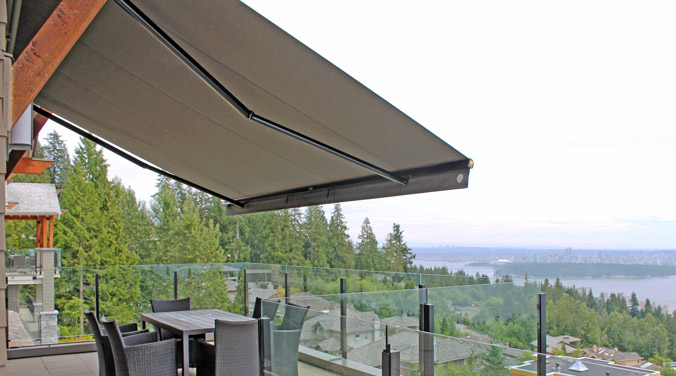 Made in the Shade
BBQ Year Round
Protect Your Furnishings
1000's of Colors to Match Your Home
Increased Shade and Privacy
Shade at Your Finger Tips
Wireless Sensors for Sleek Automation
Rolltec Awnings
Stobag Shade Solutions
Increase Curb Appeal
Outsmart the Weather
Energy Efficient
Request a Quote
Request a Quote Today
Rolltec Models
X3M
This is our most popular retractable awning it is designed to combine durability with excellent functionality.
X3M Plus
An upgrade to the X3M that allows easy and infinite pitch adjustments.
Extenda
An awning specially designed for areas that require a full projection but cannot accommodate the minimum width requirements.
Bravo
A semi-cassette retractable awning system where the roller with fabric top are enclosed, leaving only the arms and valance exposed when the awning is retracted.
Physique
A heavy duty awning system exclusively designed for 13'0" (4m) projection, and has chain driven arms.
Stobag Models
Camabox
A slim box awning with a timelessly elegant design. Especially suitable for shading smaller to medium-sized areas
Resobox
is a graceful box awning specially designed for use with large- area terraces. Can span an extraordinary width of 18 meters (has 6 arms) and a maximum projection of 4 meters.
Melano
This awning emanates a Mediterranean flair and is reminiscent of holidays in southern climes.
Casabox/Tendabox
Slim box awnings especially suitable for shading smaller to medium-sized areas.
Conservatory Shading
Motorized shading options for skylights help you take control of heat gain.
Feature Options
Somfy Motor
Radio Technology Somfy® provides awning users with simple and innovative operating functions that can be adapted to your lifestyle.
Wind Sensor
Automatically retracts the awning in windy conditions for peace of mind.
Spring Assist
You'll appreciate the help retracting larger manual awnings.
Remote Control
Put the power of shade on demand at your fingertips.
Protective Hood
This optional hood is suggested for installations where there is no overhang to protect the awning (a hood cannot be used in conjunction with ceiling or rafter brackets).
Valance Options
Attractive additional shade and privacy for the front of your awning. Both retractable and removable are available.
A rich selection of designer fabrics is available through Wizard.
You can choose from a wide variety of patterns and colours created by prominent decorators and fabric designers.
Over 200 Fabric Choices
Unsurpassed colour stability
Remarkable resistance to pollution, light and weather
Does not support mildew growth, and is rot proof.
Highly breathable and water repellent
Maximum resistance to tearing due to stretching, shrink proof!
Easilly cleaned with mild soap and water
High level of protection form UV rays
Somfy Controls & Devices
Somfy Sensors
Learn more about Somfy component options here.
An View of Excellence
Click the link below to download the latest Retractable Awnings brochure.
Download a Brochure
Warranty
Wizard Industries Inc. offers a limited 10 year warranty on Retractable Awnings Quality awnings, for years of worry free use. Engineered with only the highest quality materials. Manufactured with powder coated extruded aluminum. With UV Resistant fabrics that stay vibrant.
Where To Buy
Search for a Local Authorized Dealer now