Retractable Screens
RetractaView™ by Wizard Screens is the premium retractable screen door. Featuring a sleek modern design and the highest quality of components, RetractaView™ is the perfect screen solution for your door! Our retractable screens are custom made and professionally installed.
In addition to being awkward, traditional door screens present two big challenges to homeowners whether they are looking to screen a custom mahogany front entry door or a French door leading out to the back lanai. First, finding a traditional insect or solar screen that does not negatively impact a door's appearance is nearly impossible and second, and equally as challenging, is uncovering one durable enough to handle the daily rigors of a high-traffic exterior door. With the Wizard Retractaview™ retractable door screen homeowners can say goodbye to having to compromise by either selecting an unsightly traditional screen or not screening the door at all. Retractaview features a low-profile housing and a contemporary style that blends in with the existing design and is pulled into place only when needed. A custom latch system holds the screen in place when in use yet releases should a pet or person run into the screen. Wizard's GlideSmooth™ Technology enables effortless one-handed operation along the low-profile upper and lower tracks. When a completely clear view is desired, the screen conveniently retracts and stores out-of-sight in the side housing.
Locate a Dealer Near You
We sell RetractaView™ screens through our dealer network. Learn where to buy our premium retractable screens.
RetractaView™
The RetractaView is a premium retractable screen solution capable of screening door openings up to 110 inches wide (double doors), and 55 inches wide (single doors).
From $449.00
* Single Door
Includes color matched sill adaptors, onsite measuring, installation and a limited lifetime warranty.
* Subject to applicable taxes, pricing is subject to site inspection, and some size limitations may apply.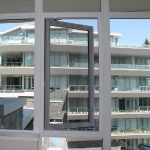 Custom Made
Disappears While Not in Use
Ergonomic Handle
GlideSmooth Technology
With years of proven performance and a rugged weather, wear, and UV resistant nylon construction, Retractaview is the most durable door screen on the market and offers years of trouble-free performance. The housing will not warp, crack, or fade and the screen is capable of absorbing impacts from people and pets without tearing or sagging. Available in a variety of colors, styles, and solar and insect mesh types, Retractaview is the perfect screen solution for all doors, including single in-swing or out-swing, sliding, and double French.
Request a Quote
Request a Quote Today
Mesh Options
4 Phifer Mesh options are available.
Standard 18 x 14: Keep your home insect-free while maintaining clear visibility.
Noseeum: Small insects (no-see-ums) cause problems for homeowners. Our NO-SEE-UMS insect screens are designed with homeowners in mind to protect against these pesky pests. Protect your home and learn more about our NO-SEE-UMS screens.
Pet (17 x 13): If you need a stronger, more durable insect screen, TuffScreen is for you. The heavy-duty, vinyl-coated insect screen is pet resistant and built to last.
Solar: Insect screen offers the ultimate in insect protection and blocks up to 65% of the UV and suns heat. Solar mesh also provides some privacy during the daytime in addition to filtering UV rays and keeping you cool at home.
Sizing Options
Optional Speed Reducer
This option is designed to slow screen retraction speed to prevent accidental impacts. This option is only recommended for seniors and households with toddlers as it's addition may increase wear on associated screen components.
A Convenient & Elegant Solution.
Click the link below to download the latest RetractaView™ brochure.
Download a Brochure
Warranty
Wizard Screens offers a
Limited Lifetime
Warranty on all components, excluding screen mesh, speed reducers and wood grain finishes, to the original purchaser of the RetractaView Screen from the date of installation. This warranty is non-transferable and will remain intact for the original purchaser provided the product was installed by an Authorized Dealer and/or factory trained installer and has not been moved or altered in any way. Paint Finish warranty is
10 years
for powder coated or painted exposed surface of aluminum and steel components against corrosion and cosmetic deterioration under normal conditions and use. Wizard's Optional Speed reducers carry a 1 year warranty and Wood Grain finishes carry a 10 year warranty. Wizard warrants the components shall be free of defects in materials and workmanship. "Defects" are defined in this warranty as imperfections that impact on the utility of the retractable screen. Wrinkles in the mesh or puckering along its edges in itself does not constitute a defect. Defective components will be replaced free of charge for up to one year from the date of installation. After one year, Wizard will provide replacement components at no charge, but a service installation charge will apply. The Limited Warranty does not include components that have been damaged by misuse, abuse, unauthorized repair or modification of the screen; normal weathering, fading, scratching, airborne or applied corrosive contaminants, acts of God or other causes beyond the control of Wizard Screens. If a component is defective and you require assistance, please contact your original point of purchase. Please retain your invoice as proof of purchase. Proof of purchase is required for any after sale service.
Downloadable Version
Where To Buy
Search for a Local Authorized Dealer now