Large doors and windows offer unobstructed expansive outdoor views and fill indoor spaces with large amounts of sunlight. However, these oversized windows and doors are often difficult to screen without sections of the screen's frame, pull bars, or the seams obstructing the view.
For homeowners or business owners looking to capture the most of an unobstructed outdoor view or flood their indoor space with sunlight while protecting themselves from pests, biting insects, and harmful UV rays, VistaView Retractable Wall Screens are the perfect single-screen solution. Featuring Captured Mesh Technology, VistaView is capable of screening windows and doors up to 11 feet tall and 28 feet wide with a durable, wind and pet resistant mesh.
In addition to covering large doors and windows with a single product, operating the screen is done effortlessly with one hand. Smoothly move the screen along its track and engage the hand brake to stop it anywhere along the span for easy access through doors or to allow just the right amount of light through.
Available in 60 mm, 70 mm, and 80 mm housing options, choose VistaView for large windows, bi-fold doors, stacker doors, curtain walls, telescoping walls, lift & slide door systems, French doors, and more.
Applications
VistaView™
Vistaview can screen up to 28' wide double doors (or corners) and 14' wide single doors with a durable and wind resistant high grade insect mesh. Features industry leading auto stop and captured mesh.
From $1499.00
* Single Door
Custom Made with a variety of finishes to match your door trim and homes décor. Pricing includes onsite measuring installation and a limited lifetime warranty.
* Subject to applicable taxes, pricing is subject to site inspection, and some size limitations may apply.
Live Large
VistaView™ Retractable Wall Screens lets you relax and enjoy open concept living. Bring the outdoors in - minus the bugs!
Cover Large Spans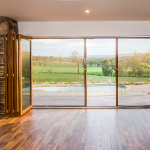 Unobstructed Views
Fresh Air
Auto Stop
Captured Mesh
Recessed Track
Request a Quote
Request a Quote Today
Finish Options
Mesh Options
Pet mesh AKA "Tuff Screen Heavy Duty Mesh"
If you need a stronger, more durable insect screen, TuffScreen is for you. The heavy-duty, vinyl-coated insect screen is pet resistant and built to last.
No-See-um
Small insects (no-see-ums) cause problems for homeowners. Our NO-SEE-UMS insect screens are designed with homeowners in mind to protect against these pesky pests. Protect your home and learn more about our NO-SEE-UMS screens.
Sizing Options
60mm Housing Singles Standard Mesh: 6'(W) x 11'(H)
60mm Housing Doubles Standard Mesh: 12'(W) x 11'(H)
70mm Housing Singles Standard Mesh: 9'(W) x 11'(H)
70mm Housing Doubles Standard Mesh: 18'(W) x 11'(H)
80mm Housing Singles Standard Mesh: 14'(W) x 11'(H)
80mm Housing Doubles Standard Mesh: 28' (W) x 11'(H)
Configuration Options
An View of Excellence
Click the link below to download the latest VistaView brochure.
Download a Brochure
Warranty
Wizard Screens offers a 5 years limited warranty on all components, excluding screen mesh, to the original purchaser of the VistaView from the date of purchase. This warranty is non-transferable and will remain intact for the original purchaser provided the product was installed by an Authorized Dealer and/or factory trained installer and has not been moved or altered in any way.
Paint Finish warranty is 10 years for powder coated or painted exposed surface of aluminum and steel components against corrosion and cosmetic deterioration under normal conditions and use.
Wizard warrants the components shall be free of defects in materials and workmanship. "Defects" are defined in this warranty as imperfections that impair the utility of the retractable screen. Wrinkles in the mesh or puckering along its edges in itself does not constitute a defect.
The limited warranty does not include components that have been damaged by misuse, abuse, unauthorized repair or modification, lack of maintenance, normal weathering, fading, scratching, airborne or applied corrosive contaminants, acts of God or other causes beyond the control of Wizard Screens.
If a component is defective and you require assistance, please contact your original point of purchase. Please retain your invoice as proof of purchase. Proof of purchase is required for any after sale service.
Where To Buy
Search for a Local Authorized Dealer now